Activities abound in our farmland community! Our immense deck allows our guests to visit with our Amish neighbors in the evenings. Pull up a rocking

chair and have your questions answered, first-hand, by the Amish. You will thoroughly enjoy their company and you will learn a lot about their culture. As educators, we enjoy this chance to help others learn about our local culture.
Family activities include a visit to a local Amish farm and arrangements for dinner with an Amish family. You may also want to join us when we light up the outdoor barbeque and toast marshmallows.
There's great fishing at the local stream (fishing rods available), toasting marshmallows by the fire, occasional fireworks, and an area to play Amish horseshoes. If you enjoy a more active lifestyle, you will love the many nature trails, as well as Lancaster County's rolling hills for bicycling.
We are just a frog's hop from many fine restaurants like The Catacombs, Revere Tavern, Lancaster Brewery and Shady Maple Smorgasbord. From fine dining to down-home cookin' Lancaster has whatever your appetite desires.
We are also just a frog's leap from many local craft and antique stores, outlets and auctions.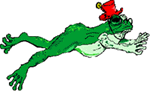 Establishments like Rhiels Quilts & Crafts, Glick's Quilts, Lapp's Homemade Ice Cream, farm visits, horse auctions, buggy rides, and Rockville Square Outlet Mall will make you shop 'til you drop!
If shopping isn't your thing, our lily pad is just across the pond from numerous amusements and entertainments. For a day of fun why not try places like Dutch Wonderland, Aaron & Jessica's Buggy Rides, Sight & Sound Millennium Theater (ask about discount tickets if you stay with us), and the American Music Theatre.
If museums and history are more your thing, Lancaster County has a lot to offer. You can visit the Mascot Roller Mill, the Railroad Museum of Pennsylvania, the Quilt Museum of Lancaster, or the Sturgis Pretzel Factory the oldest pretzel bakery in America.
Back home, our estate makes a great "pad" for family reunions, conferences and all sorts of get-togethers.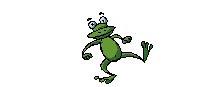 ---
Rooms

Activities

Grounds

Breakfast Menu
Frog Legs

Links

Contact Us

Home